Muck Spreaders - from Bergmann
Bergmann have been producing muck spreaders, within their range of high quality high quality agricultural machinery, for over three generations.
The muck spreaders have established a strong reputation for build quality, technological innovation, and accuracy of spreading.
With capacities of Muck Spreader ranging from 12 to 34 tons and with a choice of both Vertical Beater machines or Spinning Disc - There is a spreader to suit all requirements.



Muck Spreader Innovations.
Agritechnica 2019 sees the presentation of two major developments in the Bergmann Muck Spreader range.
The New V Spread unit which takes spinning disc spreading width to new dimensions.

Accurate applications can now be achieved to over 36m with the unique patented arrangement of the now 1100mm diameter discs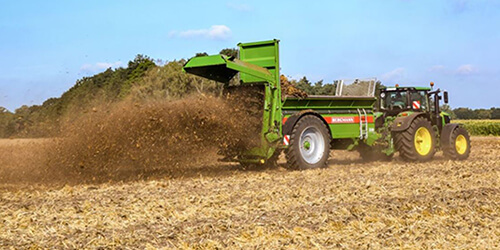 The New 2spread vertical beater spreaders for straightforward spreading with high application rates.

Where high application rates are required and it is not necessary to spread over large widths the new vertical beater units allow users to benefit from the Bergmann build and features.