Forage Wagons - Short Chop
Forage Wagons manufactured by Bergmann offer a broad full range of Silage Wagons. Developed to meet the exacting requirements of demanding Contractors and Farmers.
Quality Forage
As quality forage is at the heart of a successful and profitable livestock year it is important that grass is ensiled in the right way and at the right time. Because of this the Bergmann range of Silage Wagons have been engineered with both performance and forage quality as priorities. As a result the Bergmann line up features many unique class leading features that we feel ensures top quality silage is produced. 
High Performance Loader Wagon
As with all Bergmann machinery the leading performance for these Forage Wagons comes from many incremental details. These features combine to produce a uniformed short chop, high work rates and a gentle touch on the ground to maximise regrowth.
Light Weight Loader Wagons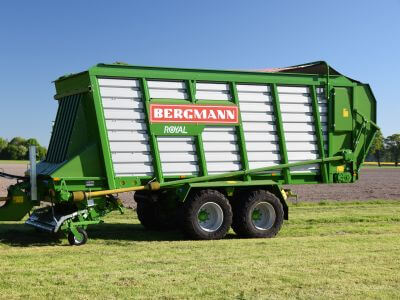 Compact Short Chop Silage Loader Wagons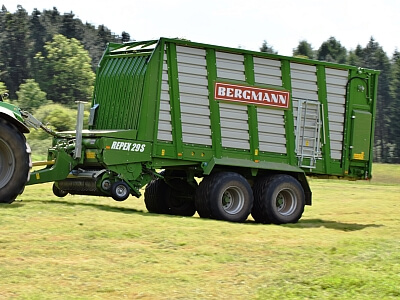 High Performance Silage Wagons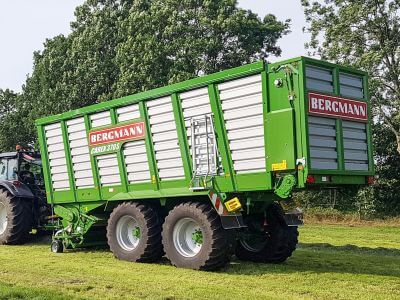 Large Output Silage Wagons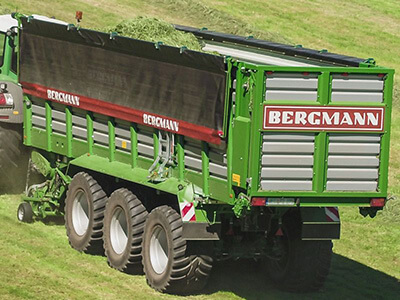 Bergmann Forage Wagon - Pick Up
Gentle, effective and contour hugging, the cam track controlled pickup ensures a clean sweep. This minimises contamination and presents grass optimally to the direct feed drum. As a result of the engineered and optimised layout this prevents combing or straightening of the grass. Importantly because of the increase in multi cut systems, the cam track controlled pick up performs perfectly in both heavy cuts and lighter later cuts. As a result this eliminates rolling or bulldozing of grass in front of the pickup. These features help to reduce losses and present the grass sideways onto the drum for a good chop. Because of the attention to the finer details we offer season long performance. From heavy cuts through to light cuts is quality and performance is assured.
A hydraulically driven pickup is fitted to the latest generation of Bergmann Loader Wagons which gives further versatility. This gives the ability to match pick up speed and forward travel speed proportionately and because crop conditions can vary. With the latest forage wagons from Bergmann you are in charge.  The pick up also features a hydraulic reverse system so as to ensure machine output and reduce operator fatigue.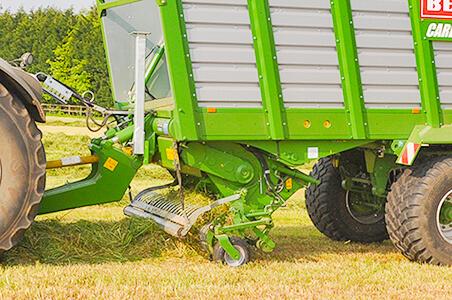 Bergmann Forage Wagon - Direct Feed Drum
Low mounted

Low Power

Short Chop
Bergmann silage wagons are fitted with a large diameter drum which is mounted low to give a direct feed from the pick up. This avoids any straightening of the grass, keeps moving parts to the minimum and power requirements low. With the high knife population and an optimised crop flow the Bergmann range lives up to the title of the Short Chop Forage Wagon.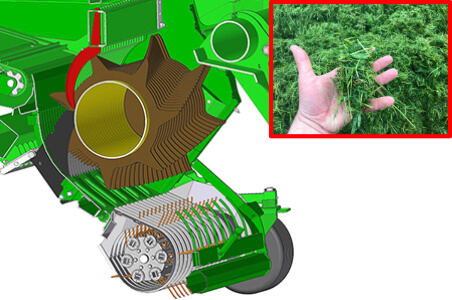 Bergmann Forage Wagon - Steel Floor
A sloping steel floor is fitted to our silage wagons which gives efficient loading. This presents optimum conditions for controlled compression of the grass to ensure loads are maximised. The Bergmann loader wagons crop flow also avoids a high power requirement.
By avoiding the bruising or shredding of the grass once the grass leaves the drum this ensures quality silage production. The structure of the grass is maintained by the carefully optimised crop flow and avoids preventable excessive forces being generated when leaving the drum.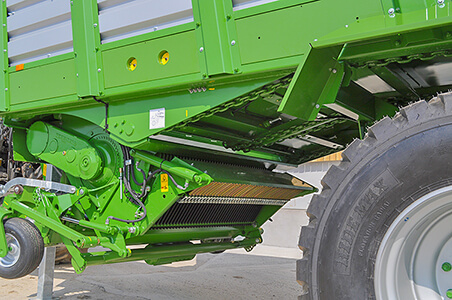 Forage Wagon - Running Gear
High capacity running gear ensures our forage wagons have a light footprint in the field and a smooth stable ride on the road. Grass regrowth is of optimal importance to ensure sward performance. Due to this the sophisticated hydraulic running gear ensures loads are well distributed. This is to give an easy pull and a light footprint - which ensures swift sward regrowth.