The Short Chop Forage Wagons.
The Forage Wagons produced by Bergmann offer users a wide choice of specifications. This means there is a model and specification to suit all requirements given the broad full range we can offer.
These loader wagons have been specifically developed to meet the exacting requirements of demanding Farmers and Contractors alike. A strong emphasis has been placed on build, machine performance and most importantly the quality and consistency of cut.
Short Chop - For quality forage production
The Most Knives - Up to 53 Knives at 34mm spacing
The Widest rotor - 1840mm huge throughput
Innovative Features - Modern design for today's conditions
Large Choice of models and Specifications
Quality Build- For low life time operating costs
The advantages of the Bergmann wagons we offer are clearly evident in the field. As such we are keen to let people see for themselves and take advantage of a visit from our demo team to see first hand - Contact us to arrange a visit.
Quality Silage
As quality feed is at the heart of a successful and profitable livestock year it is important that grass is ensiled in the right way and at the right time. Because of this the Bergmann range of Silage Wagons have been engineered with both performance and forage quality as priorities.
The use of a Multi cut silage production system can offer farms the ability to reduce concentrate costs and increase performance.
The efficient management of grass production for silage and the inherent maximisation of, for example, Milk from forage has a direct influence on overall profits.
By taking an earlier first cut grass yield for this cut is reduced when compared to traditional systems. This means that a multi cut first cut can yield some 66% of a traditional cut.
With the annual silage workload spread over 5 smaller yielding cuts rather than heavier 3 cuts a closer look at the harvest methodology is also required to manage costs.
With the ominous scale of carting first cut grass reduced by a third and the necessity to reduce harvesting costs large self propelled units can no longer be optimised to a true multi cut system.
In addition to this the logistics of pulling a large gang together can mean that the grass is harvested when the machinery is available rather than when the weather or grass is within optimum window.
Integrating the harvesting of the grass with grazing cycles and splitting early ley grasses with a later cut for permanent pasture / early grazed ground can present significant operational advantages.
The use of a Forage Wagon system when compared to a large self propelled forage harvester gang can offer major advantages:
Operational flexibility
Timeliness
Cost efficiency
Modern forage wagons such as the Bergmann range can be fitted with up to 53 knives spaced at 34mm. The quality of chopped grass is far removed from that of wagons in days gone by. It is important to note however that the growth stage of the grass is also much younger than the more lignified heavy yields of old systems. As such the cut provided by a wagon is optimal for rumen function and overall performance with such grass.
The costs associated with running a high output self propelled silage harvesting outfit are huge. These have to be offset against the equally huge outputs. This balance is upset however when the yields are not in front of the harvester. The system still utilises the same capital investment, similar fuel consumption and also requires a minimum number of operatives - if only for a short time.
This cost imbalance has led to many farmers and contractors to re-visit their thinking and turn to the forage wagon as a cost effective solution in modern grass preservation.
The advantages to multi cut system is the increased ME value of the silage. This increased energy equates to a reduction in bought in concentrate. A typical 1MJ/kg DM increase would translate into an approximate 2ppl saving in feed costs.
Utilising Forage wagons can mean that users can take 4 or 5 cuts of grass for similar or lower costs when compared to a 2.5 cut traditional system. With pressure on margins and milk price the Forage wagon and multi cut fit together like hand and glove.
To see the how a modern Forge wagon can work for you please contact us to discuss further and arrange a demonstration of a Bergmann Forge Wagon.
As a result the Bergmann line up features many unique class leading features that we feel ensures top quality silage is produced. These features can be seen highlighted below.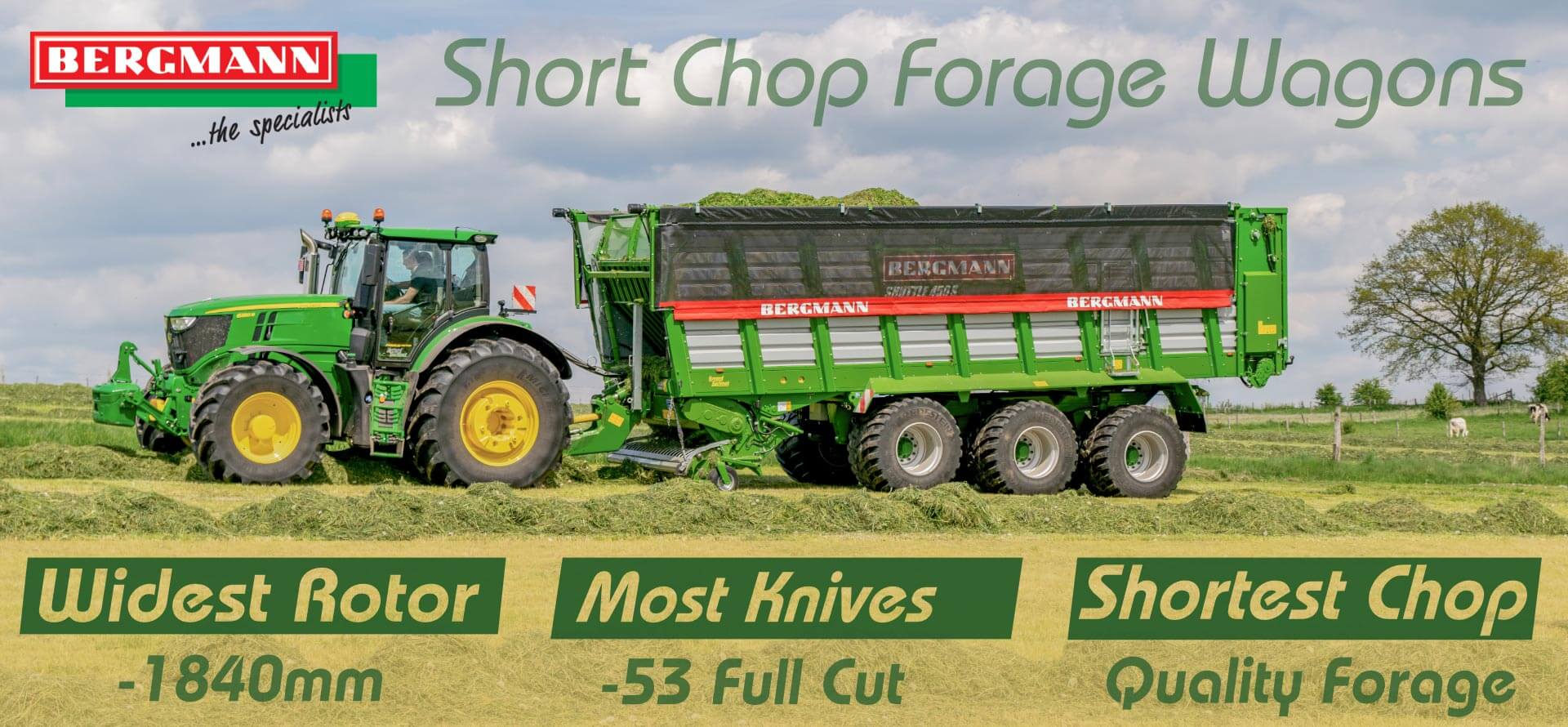 High Performance Loader Wagon
As with all Bergmann machinery the leading performance for these Forage Wagons comes from many incremental details. These features combine to produce a uniformed short chop, high work rates and a gentle touch on the ground to maximise regrowth.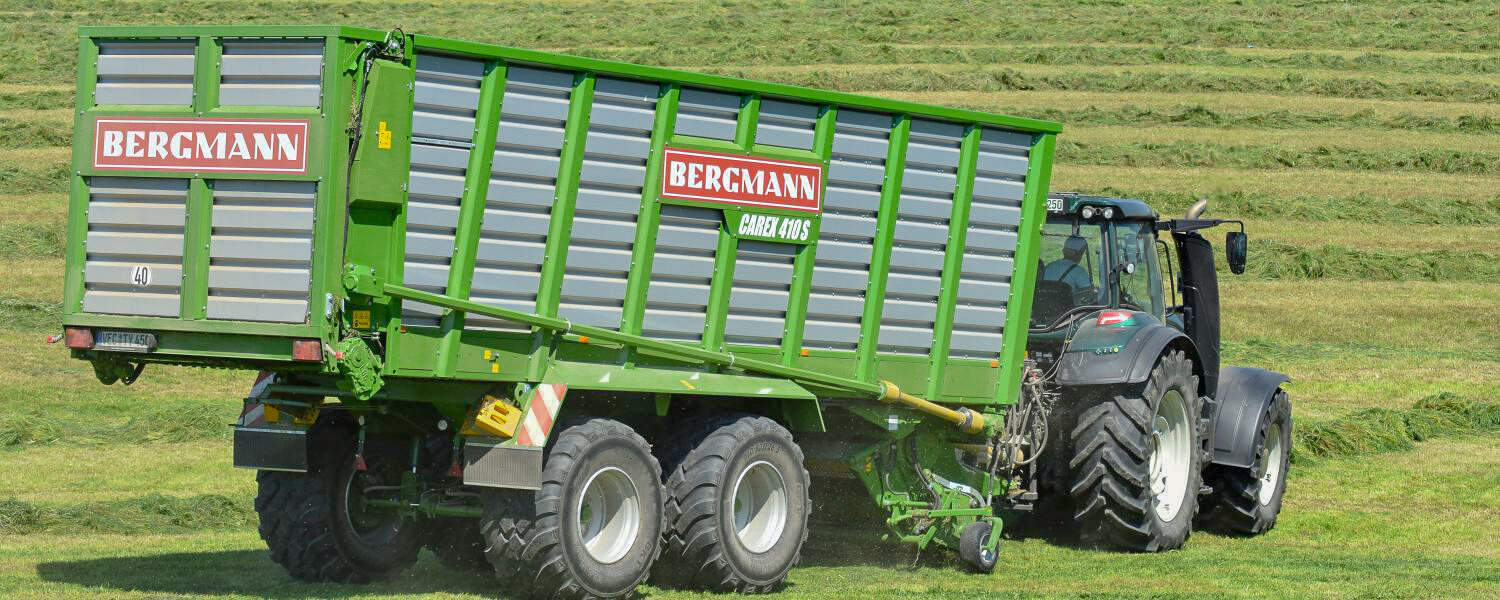 Click through to expand for feature information
The Pick Up
Gentle cam track controlled
Avoids grass rolling, combing or straightening
Clean sweep
Contour hugging
The cam track controlled pickup ensures a clean sweep without the excessive speed of a camless unit. This minimises contamination and importantly presents grass optimally to the direct feed drum. As a result this prevents combing or straightening of the grass - giving a short cut.
With the increase in popularity of the multi cut system, the cam track controlled pick up performs perfectly in both heavy cuts and lighter cuts later in the season. As a result this eliminates rolling or bulldozing of grass in front of the pickup. These features help to reduce losses and present the grass sideways onto the drum for a good chop.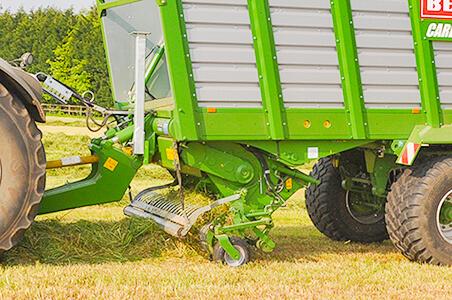 Hydraulic Drive Pick Up.
A hydraulically driven pickup is fitted to the latest generation of Bergmann Loader Wagons which gives further versatility. This gives the ability to match pick up speed and forward travel speed proportionately and because crop conditions can vary. With the latest forage wagons from Bergmann you are in charge.  The pick up also features a hydraulic reverse system so as to ensure machine output and reduce operator fatigue.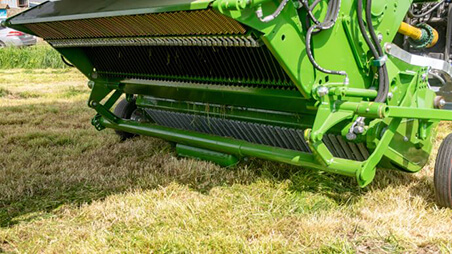 Direct Feed - Short Chop - Drum
Low mounted
Low Power
Short Chop
Bergmann silage wagons are fitted with a large diameter drum which is mounted low to give a direct feed from the pick up. This avoids any straightening of the grass, keeps moving parts to the minimum and power requirements low. With the high knife population and an optimised crop flow the Bergmann range lives up to the title of the Short Chop Forage Wagon.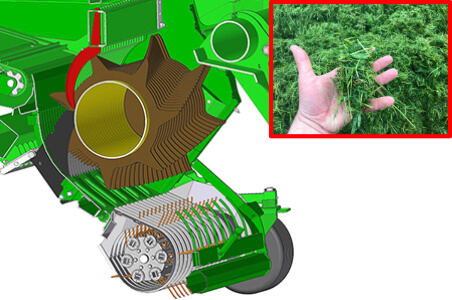 Sloping All Steel Floor
A sloping steel floor is fitted to our silage wagons which gives efficient loading. This presents optimum conditions for controlled compression of the grass to ensure loads are maximised. The Bergmann loader wagons crop flow also avoids a high power requirement.
By avoiding the bruising or shredding of the grass once the grass leaves the drum this ensures quality silage production. The structure of the grass is maintained by the carefully optimised crop flow and avoids preventable excessive forces being generated when leaving the drum.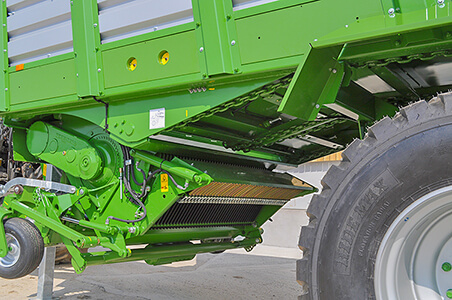 Running Gear
High Stability
Easy Pull
Low Compaction
High capacity running gear ensures our forage wagons have a light footprint in the field and a smooth stable ride on the road. Grass regrowth is of optimal importance to ensure sward performance. Due to this the sophisticated hydraulic running gear ensures loads are well distributed. This is to give an easy pull and a light footprint - which ensures swift sward regrowth.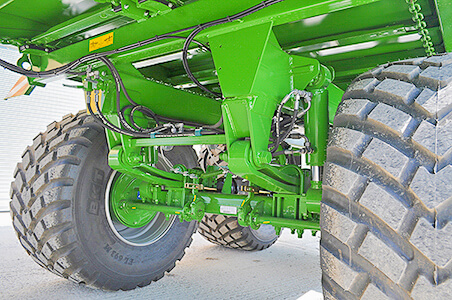 ISOBUS Controls
Fully certified ISOBUS control systems are fitted as standard to the full range of loader wagons.
Featuring AEF compatible software users are able to reliably assign functions to the tractor joysticks via AUX-N functionality.
A range of Bergmann CCI terminals are available where tractor screen integration is not available and a stand alone system is required.
Simple control systems are also available should users want a more traditional method of machine control.