Grain Chaser Bins
An Efficient Harvest
Grain chasers from Bergmann are designed to handle large volumes of grain within an efficient harvest system.
With increasing pressures on the costs of production harvest efficiency is coming into sharper focus. Combine harvesters are being asked to cut more hectares. As a result they continue to get larger each season. Getting substantial quantities of grain back to the store with minimal labour, minimal cost and without delaying the combines can be a logistical tightrope.
The size of farmed units has also increased. It is common now for farms to be spread over large geographical areas. The haul now often considerable road miles. The huge harvesting capacities of combines demands that they be kept harvesting. Waiting on trailers is a costly pastime.


Efficient Harvesting = Increased Output & Reduced Costs
Grain Chaser Bin = Efficient Harvesting.
The grain chaser bin concept is such that the Chaser - and its operator - form the link between the harvester and the transport chain. This allows the combine operator to maximise performance without trying to co ordinate a large number of trailers often operated by seasonal staff. The ability to unload un compromised by trying to fit in with the trailers, versus the length of runs, trying to ensure a full trailer leaving but also an empty grain tank - all means harvester outputs are often raised by 20% and stresses reduced. This output can be argued to lead to an earlier finish and potentially ensures quality and premiums.
Chaser Bin Gives Reduced Ground Compaction
Chaser Bin Gives Reduced Ground Compaction.
Trailers have to strike a balance between flotation whilst in the field at a lower speed and high loads and speeds on the roads.
The chaser bin can operate with large flotation tyres inflated to a pressure to suit the operation within the field. Combined with the standard hydraulic suspension, which ensures the load is shared equally amongst the wheels, this results in a reduced compaction despite the increased capacity of the chaser vs the trailer.
Chaser Bins and Controlled Traffic Farming
Chaser Bins and Controlled Traffic Farming
Using a chaser bin can control the in field harvest movements without compromising the integrity of the system. Unloading on predefined bouts results in field length passes to take grain from combines. The increased infield requirements this creates is often the undoing of the traditional trailer system that has worked in the past. A choice of tyres and rim settings can match the wheel track of the chaser to your chosen system.
Utilise Road Transport
The use of artic trucks for harvest movements gets large volumes of grain moved swiftly, economically, safely and within legal weight regulations. To maintain the efficiency and rhythm it is important to be able to fill the trucks to capacity within one visit. The Bergmann GTW 430 Chaser Bin can carry over 34 tons of wheat which allows for a truck full with a buffer to allow for combine timings.

High Output - For High Output Harvesting
Chaser Bin - High Performance.
High speed unloading is essential to the performance of the chaser bin. A huge unloading auger rated at 1,100 tons per hour - on our larger units, is matched to an oversized power band drive train with cam clutch protection. This offers simplicity, minimal maintenance but maximises performance.
Bergmann Field Friendly Suspension.
Bergmann Field Friendly Suspension.
The '30 series chasers are fitted with the heavy duty Field Friendly hydraulic suspension as standard. When combined with the strong 150mm axles this results in a highly stable platform which treads surely but gently. Where farmed land includes slopes and hills the hydraulic suspension fitted to the chaser as standard is a must. Tyres with widths up to 800mm wide with a maximum of 30.5" rim diameter are able to be fitted giving minimal compaction - whilst still able to carry in excess of 30 tons of grain ready to swiftly fill an artic or waiting trailer.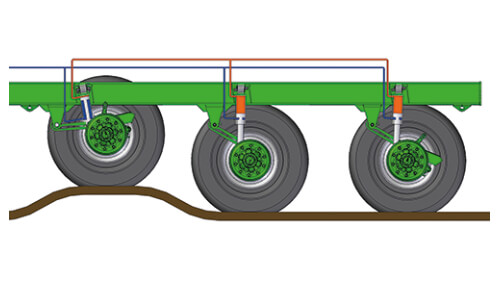 Simple Rugged Driveline
The latest Grain Chasers from Bergmann have a simple reliable power train with no drives behind the front drawbar. With only 1 gearbox and by utilising a huge power band reliability is ensured for many seasons. There are no hydraulic lines or rams inside the grain bin eliminating service issues when full or contamination problems from leaks or breakdowns.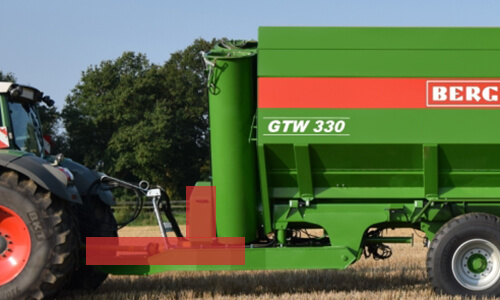 Engage/Disengage Drive to Tank Auger.
Engage/Disengage Drive to Tank Auger.
With the unique, simple and high capacity drive line of the Bergmann '30 series grain chasers you can engage and dis engage the drive to the tank auger which allows the unloading auger to empty. This means you can split the empty auger lowering the overall height in the field. Importantly it also reduces the stresses and strains associated with a large amount of grain being held in a large 600mm auger such is found in competitive systems.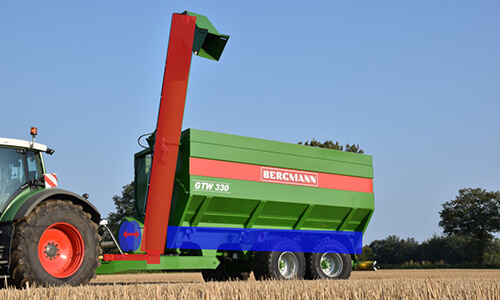 Fully Adjustable Auger
Readily moveable through a wide range of reach and height this allows the operator confidence that they can fill the waiting trailer and make use of the huge performance with out over spill or missing the target. The hydraulically controlled end flap ensures that you are on target without having to shuffle over the whole chaser.
Level Un Loading - No Uneven Weight on Part Re-Loads
Level Un Loading - No Uneven Weight on Part Re-Loads
The horizontal body auger with a varied pitch has the grain unload the tank evenly front to back to optimise weight distribution. This eliminates the accumulation of grain at the front when emptying into different sized vehicles and not always fully unloading. This attention to detail means drawbars are not overloaded and maximum performance guaranteed.
Weigh Cells and Data Logging
Weigh Cells and Data Logging
Weigh cells mounted between the body and chassis the grain chaser accurately record yields but also give the driver an update stock take of what is onboard and what he will need to fill the anticipated truck or trailer. This prevents time losses from either not having enough grain onboard or waiting un necessarily for un required tonnage to be harvested. With etc huge unloading speed it also allows the operator to fill trucks swiftly without overloading or relying on truck mounted alarms.