Dedicated Silage Trailers - Moving Floor
Built for the sole purpose of moving forage from high capacity self propelled harvesters these silage trailers offer no compromises.
High Speed Unloading.
The high speed moving floor unloads these high volume trailers reliably in approximately one minute. Without any tipping body you have no more worries with regards unloading in low buildings or on sloping ground with these silage trailers.
Heavy duty 14x50mm floor chains utilised elsewhere in the Bergmann product portfolio offers the same 4 x 25 ton strength. 100 tons combined strength leads to a long trouble free service life with minimal maintenance.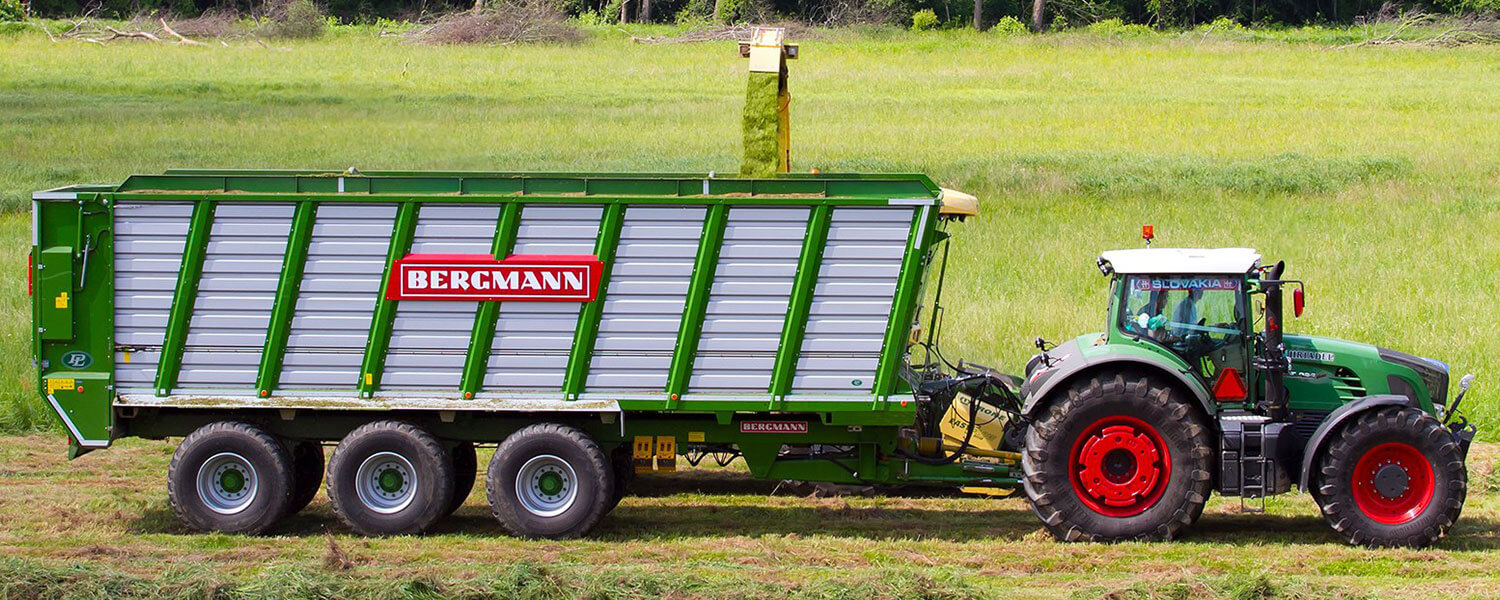 Have you seen our Bergmann Self Loading Forage Wagons?
Simple Driveine.
A choice of hydraulic or mechanical drive is available. DIrect mechanical drive is made using proven shafts and gearboxes. There are no convoluted long chain drives running up the side of the machine. The gearboxes ensure performance time and again.
A low Tare Weight
A low tare weight with high performance running gear and a swift turn around ensures that harvesting machinery is kept moving and the number of tractors and trailers is kept to a minimum.
Multicut silage systems rely on rapid grass regrowth and as such compaction and sward damage must be limited. The Large flotation tyres offer up to 800mm width and a large radius with 30.5" rims. When combined with the hydraulic suspension system this ensures equal weight distribution and unrivalled stability on slopes and at high transport speeds.

Highly Manoeuvrable - Front And Rear Steering - Forced or Passive
Front and rear steering with a choice of passive, forced or electronic crab steering means that nothing is kinder on the ground or more efficient at moving silage. The steering and wheel base design of the trailer also ensures that the trailer can get into tight yards and gateways. Infact the Silage Trailers will turn much the same as smaller tandem axle fixed axle trailers thanks to the steering axles.
With capacities from 34m3 to well over 60m3 this system is suited to the dedicated forage professional looking to get through large workloads quickly and economically.
Running Gear
Parabolic springs can be found on the smaller models  but wide track axles and hydraulic running gear are a common feature on the Bergmann HTW silage trailers.
Stability, a low drawbar pull and a gentle impact on the sward are important factors. Grass sward regrowth benefits in the summer season and soil conditions for following crops in Maize harvest.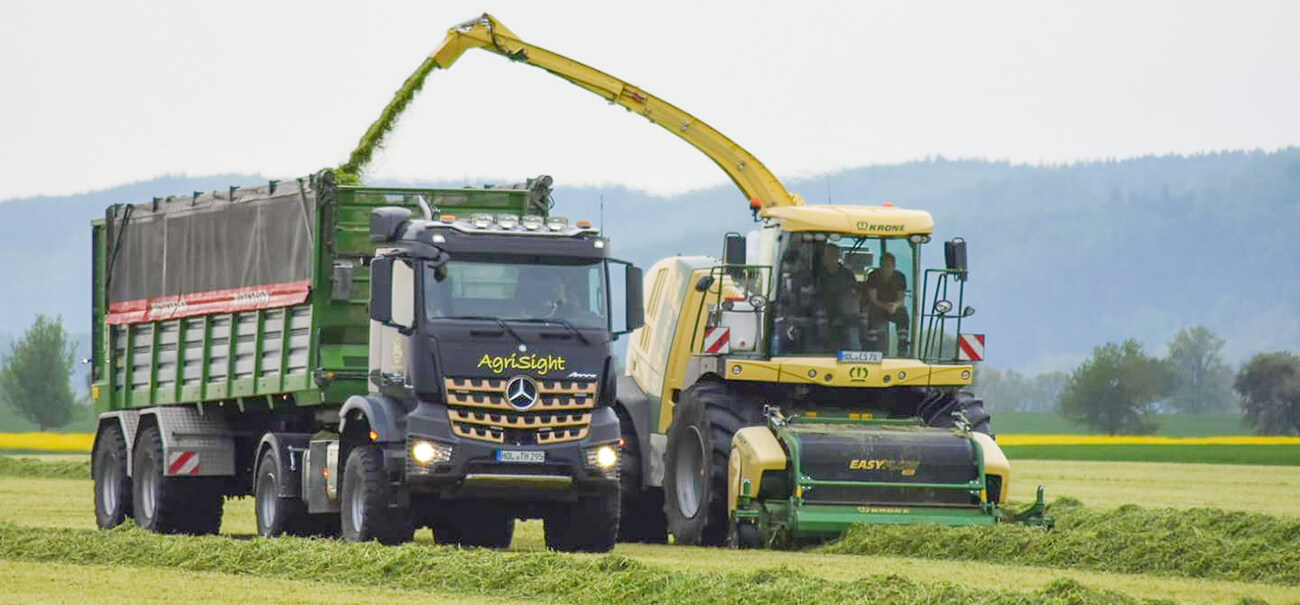 Truck Bodies
The low tare weight to volume ratio of the HTW silage bodies provides transport opportunities using trucks.
Agro Trucks - UK Road registration.
The UK is not able to register trailers or trucks with tyres fitted with anything other than high speed ratings. Large flotation tyres are often designed for the agricultural market with 65 kph max speed and load ratings. As such UK operators have to make the choice between road going units, specified on road tyres, or agricultural units on flotation tyres.
While the trucks can be registered as agricultural currently this brings with it the unwanted restrictions in the weight of an agricultural trailer. Pre 2016 weights for agricultural vehicles and trailers were under review and it may be that these change in etc future.
All wheel drive trucks do still offer payload advantages and capital expenditure levels which can still make them a viable proposition within the UK.