Huge Capacity Beet Chaser
The output of the largest Sugar Beet Harvesters requires a similarly impressive field logistics operation to ensure outputs are not curtailed.
The RRW range of Sugar Beet Chaser trailers lead the field in output stakes.
A transport capacity of up to 50m3 of Beet and an unloading rate of up to 2,100 tons per hour ensures high output harvesting - even in adverse ground conditions.
An onboard PTO driven independent hydraulic system delivers both high flows and high pressures to the hydraulic motors. These motors drive the floor traces and unloading elevator. A choice of speed is available to optimise the units performance for clamp building or loading lorries directly.

Hydraulic Suspension As Standard
Fitted as standard to the RRW Sugar beet chasers the running gear gives a sure and stable footing even with large loads in tough going. Thanks to the efficient load transfer between axles, the large axle travel and fitting large diameter flotation tyres this results in a low drawbar pull despite the size of the load.  Minimising drawbar pull ensures power is not consumed un-necessarily and is available for traction and speedy cycles away from the harvester.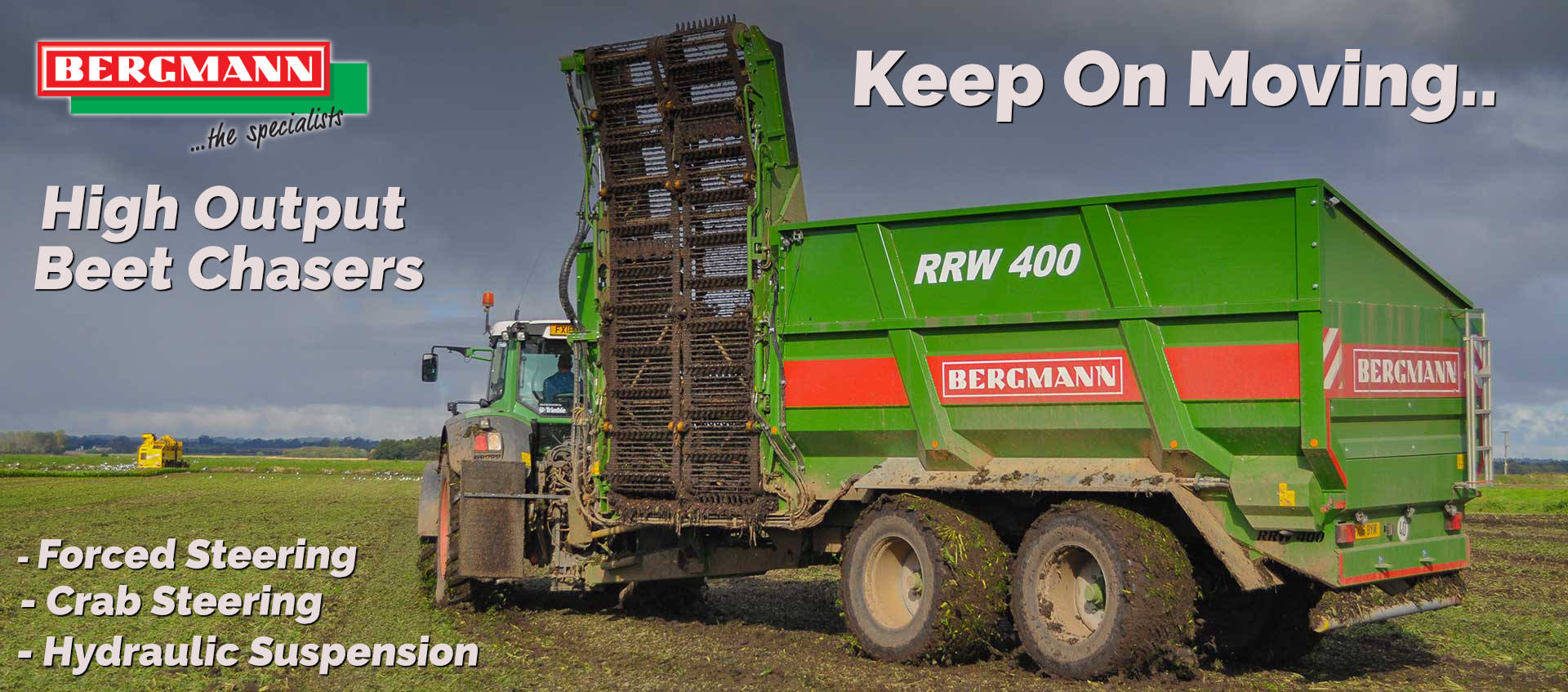 Sugar Beet Chasers - Crab Steering
Protecting the soil structure is paramount in responsible agriculture. Adopting wide flotation tyres and sophisticated suspension systems is not always enough.
The RRW Chasers are the first units to feature Bergmann's unique Crab Steering system.  These trailers can offer the same level of sophistication in relation to in-field movements as the now industry standard crab steering for the harvesters. With the wheels following fresh tracks a large wide area shares the load rather than heavily loaded wheel tracks.
Having both harvester and chaser operating in crab steering and running parallel to each other reduces driver fatigue and ensures the good work of the harvester isn't undone by un-necessary compaction from the chaser.
The powered steering also aids in truck trailer loading and clamp building. The operator, with the  in-cab control box,  is able to manually steer the chaser towards or away from trucks or to avoid "tramline" ruts forming at unloading areas. This is especially useful in wet winter operations.
ISOBUS Control
A choice of comfort control or full ISOBUS operation is available.
Fully certified for compliance and connectivity the ISOBUS control system integrates effortlessly with the tractor.
AUX N functionality permits operators programming functions to corresponding buttons on the tractors joystick. All features aim to reduce operator fatigue and maximise productivity.
Weigh cells and Data logging through task control brings opportunities to growers who wish to embrace digital data processing.
Load Sensing Hydraulics
A dual hydraulic circuit is fitted to the chaser.
All unloading features are undertaken by the high output independent PTO driven hydraulic circuit.
More commonly used machine functions such as moving the elevator is done via the load sensing circuit powered directly from the tractor. This approach ensures that operators are not having to engage or disengage the PTO drive for each and every operation.
Increased Margins
Direct in field loading can reduce evaporative losses and result on more sugar per area. Read here how users can increase margins and profit through the use of a Bergmann RRW Sugar Beet Chaser..