Big Body Agricultural Tipping Trailers
The Krampe Big Body range of agricultural tipping trailers, imported by CST are easily recognisable by their ground breaking body profile.
The design ensures a low tare weight - minimising vertical supports - whilst maximising strength through profiled sides.
The clean good looks of the trailer are backed up by a super strong chassis and high capacity running gear.
An ever present attention to detail extends to using bespoke axle mounts which ensures that deep chassis rails can be accommodate without compromise.
Big body trailers are available in a multitude of sizes with wide ranging options meaning you can specify a trailer tailored to your application.
Tandem Axle Tipping Trailers

Krampe produce tandem axle Big Body trailers ranging from 5m long bodies all the way to the range topping 8m long Big Body 790.
In contrast to many other trailers on the market the specification of the running gear changes and develops as the size, capacities and loading of the trailer increases.
You will not find a one size fits all scenario with Krampe. Instead axles, wheel bases, braking hubs, bearing sizes and axle travel will all have been optimised for the specific trailer model. To be clear an increase in trailer model size does not merely mean an increase in body size.
The use of large profile square beam axles with appropriate trackwidths ensures both stability and long term reliability. The large re-enforced bearings are designed to work with large tyres that are now used by many to maintain a low ground pressure. The grip these large tyres generate creates high forces and this is accommodated by the fitment of strong BPW axles with large hub bearings as standard across the range.
Tyre sizes of up to800mm wide and up to 30.5" diameter rims are comfortably facilitated on the larger trailers providing the ultimate payload to field load index.
Tri Axle Grain and Silage Trailer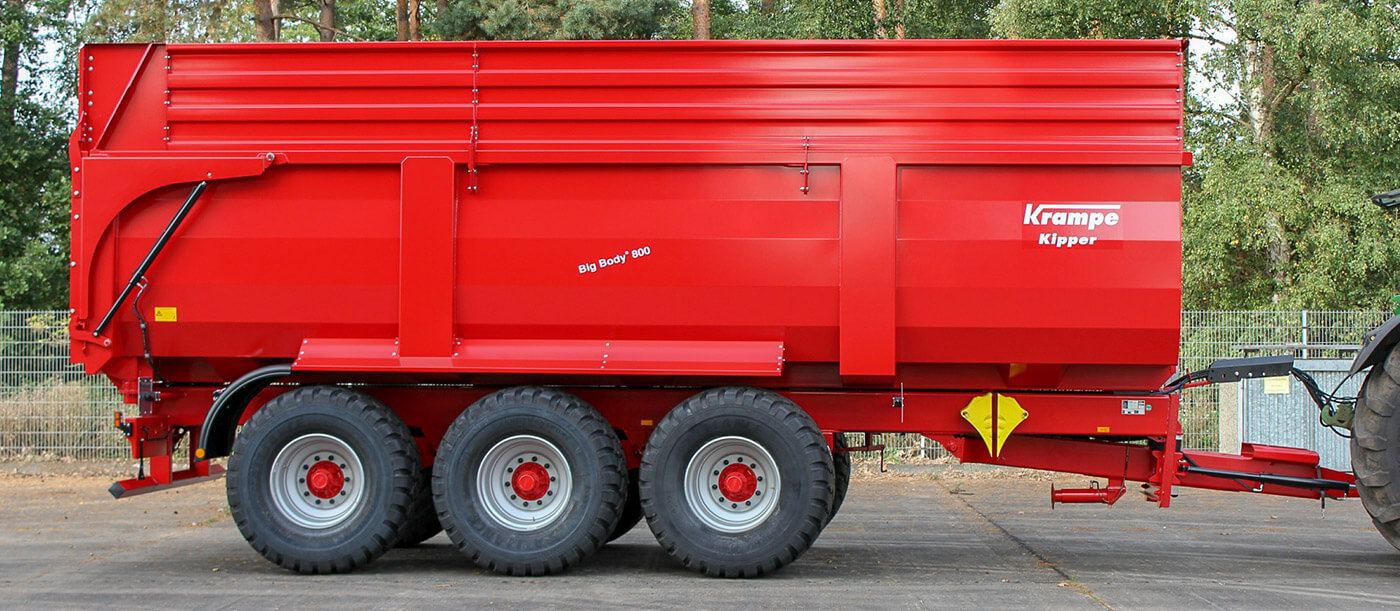 Krampe have extensive long term experience in producing Tri Axle Big Body trailers. As such customers can be assured of the right specifications. A choice of running gear is available to suit customer requirements to include options on wheel bases.
Weight distribution is an important factor when specifying a Triaxle trailer. This centres around axle positioning, wheel bases and drawbar loading. An optimised weight distribution provides for a calculated drawbar loading, easy pull and stable ride.
An easily adjusted drawbar ensures that the trailers run level and are quickly adjusted for different tractors. The standard hydraulic drawbar stands assists in the process with height adjusted in minutes – Without bottle jacks or having to go under the trailer.
First and Third axle caster steering is a standard fitment with choices of forced steering and electronic steering.
Longer bodies have particular requirements. When the bodies are tipped the resultant height generates increased forces. These are resisted by huge tipping mounts transferring these forces to the super strong chassis which in turn is supported by the well distributed running gear.
It is no chance that the single tipping ram is mounted by the running gear and lifts the trailer from a point of stability and strength.
The single tipping ram is mounted to the chassis through a gimbal to eliminate and twisting forces. At the other end a ball and socket interface with the trailers body ensures a unhindered vertical lift.
A range of springs sets matched to trailer capacity and wheel base. Optimised trailing arm geometry ensures that the trailers run smoothly yet maintain stability. Efficient axle load compensation facilitates weight distribution ensuring well running trailer.
Large diameter air bags provide the strength and stability at the heart of this popular option. Custom Krampe running gear features cranked trailing arms to maintain a low chassis height yet maximise vertical axle travel and inter axle load compensation. This ensures a smooth ride and an easier pulling trailer.
Where ultimate weight distribution and stability are required hydraulic running gear is available. The non compressibility of the hydraulic fluid eliminates any lateral movement as the left and right circuits are independent from each other.
Axle loads remain constant as oil displaced by a leading axle riding over an undulation is fed to the trailing axles resulting in a shared lifting by axles.
This system combines many of the benefits of the Air suspension with the rugged simplicity of the parabolic springs.
Trailer Hydraulically Powered Axle
Where traction is a problem Krampe have developed the powered axle. Hydraulic drive and therefore tractive force is generated by a weigh bearing axle ensuring you can keep moving even in unfavourable adverse conditions.
Tipping Trailer Big Body Design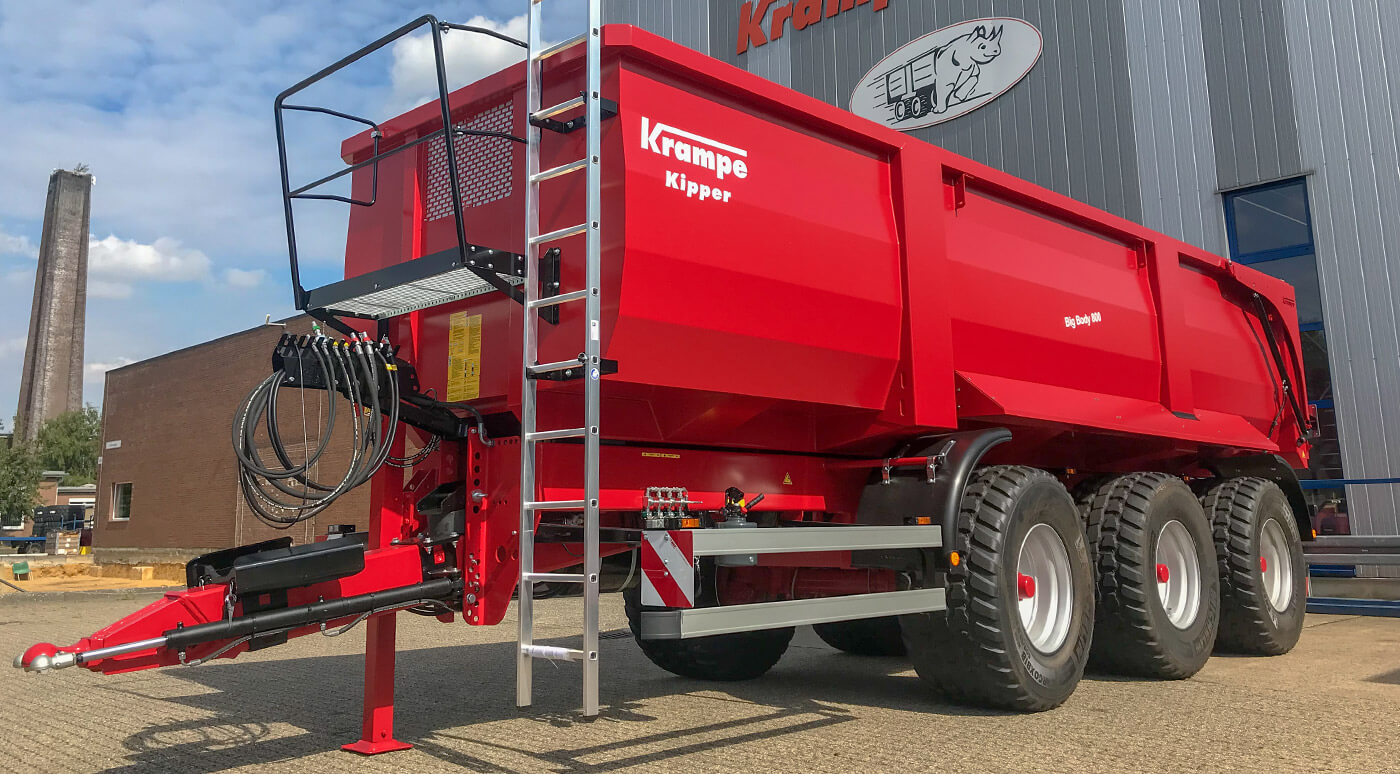 The distinctive market leading design of the Krampe Big Body range is optimised for strength and weight.
Standard build dimension and series production means no one off 's, but likewise each body has been designed to accommodate and distribute the forces to which it will be subjected over a long service life.
The formed body sides are designed to avoid side posts. This avoids excess weight and localised focused forces. A "power band" around the body in the area of the tipping cylinder and axles is featured to pass the forces created when tipping efficiently around load bearing components.
The tapered design off the trailer and the use of single pieces of steel helps loads come out of the trailer quickly. This reduces any residual material being left in the body and often reduces the tipping height required to unload. This minimises cycle times and raises efficiency.
Carefully designed and featuring the right components for the right trailer makes the Krampe Big Body trailers easy to pull. This reduces fuel use and improves output and means that a Krampe Big Body keeps moving where others may have come to a stop.
Stable Trailer
A feature of the Krampe trailer range is the stability of the trailer. A drivers machine the safety and stability make long harvest hours pass easily.
Wide Range Of Options
A substantial choice of factory options allows customer to customise the trailer to their individual requirements.
Standard options such as extension sides, lighting, side rails and steering options are common.

Logistics are often now the limiting factor for efficient silage harvesting operations. Moving large volumes of grass away from high output forage harvesters is the key. Many factors come into play such as manoeuvrability for access, stability, tyre choice, ground compaction and overall cycle times.
The Krampe trailer lends itself to silage operations well. The strong chassis and stable running gear provide a solid base for the high sides and raised centre of gravity.This stability is not at the expense of axle movement. This is important for both ground compaction - by allowing the axles to compensate without hitting bump stops and also the ease of pulling the trailers as draft forces are minimised by facilitating the leading axle to ride over obstructions.
The vertical axle travel also aids in wet times by making sure that the second or third axles are taking their fair share of the load and preventing first axles bulldozing and bringing the tractor to a stop. It is often the small differences that multiply up to have big effects.
The standard specification single tipping rams and often specified quick drop feature brings the tipping body back down quickly and safely at the clamp. The conical body profile also ensures load are quickly discharged.
Careful axle placement not only distributes weigh but also creates an appropriate tuning point for the trailer. Optional steering axles further reduce turn in arcs and results in the trailer following tractor into tight field gateways
Re enforced axle bearings welcomes the fitting of both wide and the more common larger radius tyres. Having a longer foot print facilitates low ground compaction without excessive width. Combined with efficient axle load compensation all lowers ground compaction and protects the swards for future cuts.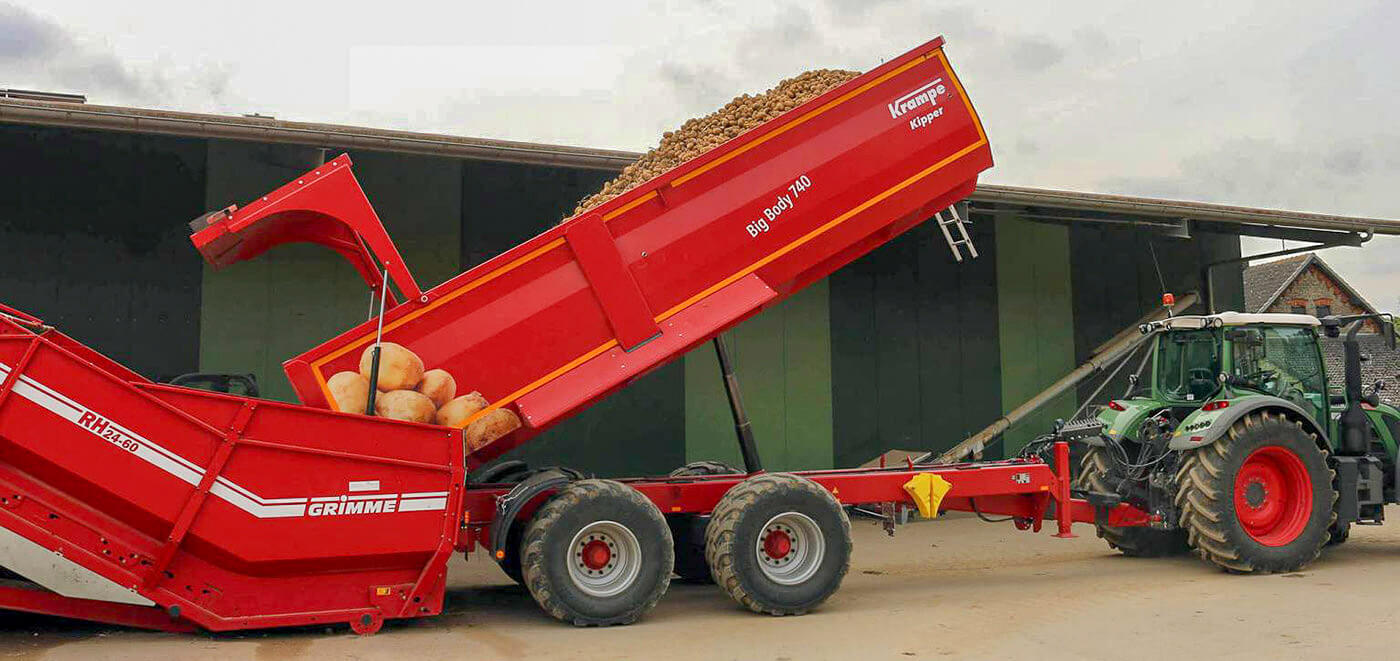 Specific unloading requirements means customer can have alternate views on what suits their needs. As such a number of hybrid models are available such as the 740 "potato" trailer. Featuring a longer rear overhand behind the pivot points this trailer is designed to aid in tipping potatoes into processing hoppers.
The option is available to specify the lower fixed side body profile for root crop work and to then increase the volume with sturdy grain prof extensions for cereals harvest or silage work.